Who doesn't love a Rainbow Slime? It's colorful, beautiful and super fun to play with it while watching all the colors mix together. To make this Rainbow Slime I used pastel food coloring, so the colors are softer and prettier than using primary colors, but feel free to use anything you like. You could even use neon colors!
I made this rainbow slime with white glue, but it would also look really good with clear glue, specially if you want very bright colors. You could add any additions to the slime to make it even better, like glitter, or just use different Elmer's Glitter Glue colors. When using clear glue, you will have to leave the slime sit for a few days so it becomes more clear. However, this time I made my slime using white glue, so there was no need to wait that long to play with it.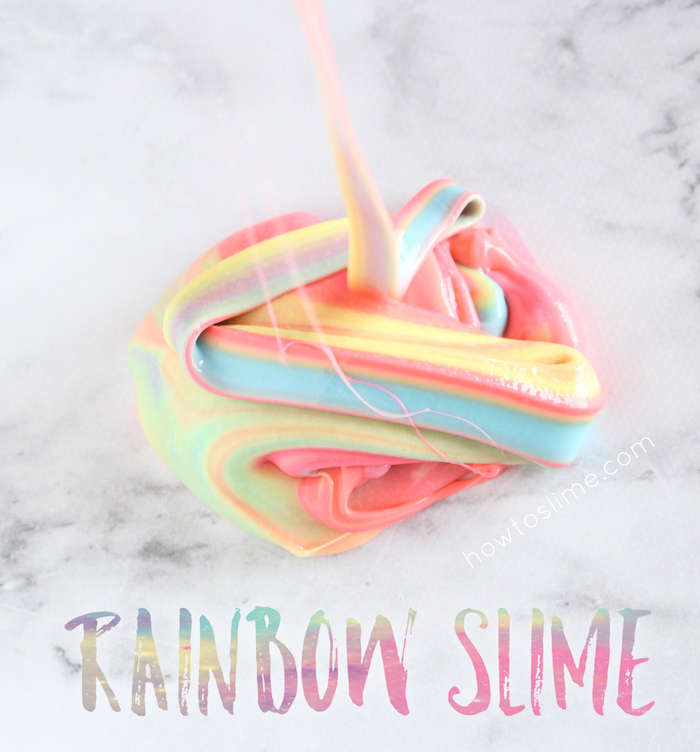 To get the rainbow effect you will have to grab a bowl and layer the different colors on it. Play right away with your rainbow slime before it mixes all together by itself! Add shaving cream to the slime if you want it to be fluffy, or add baby oil to make it glossy.
Ingredients
1 cup of Elmer's white glue
food coloring
borax (or you can use Sta Flo instead of borax)
How to Make Rainbow Slime
Empty the glue into a bowl.
Add the activator. If using borax, make the borax mixture by adding 1 teaspoon of borax powder to 1 cup of warm water (hot tap water will work). Stir very well to combine. Add the borax mixture to the slime, little by little, until it begins to form. If you don't want to use borax, you can use another slime activator as Sta Flo.
Add activator to the slime as needed, until you get the desired consistency. When it begins to form, take the slime out of the bowl and knead with your hands.
Keep kneading and adding a little activator until the slime is not sticky anymore, but don't add too much or the slime will become stiff.
Now separate the white slime in different bowls, use as many bowls as colors. Add a different color to every bowl and mix well.
Layer all the different colored slimes in one big bowl, or just put all of them on a surface, next to each other until they mix.
Play with it to see all the colors combine!
SaveSaveSaveSave
SaveSave
SaveSave
SaveSave
SaveSave
SaveSave
SaveSave