Have you ever heard of Soufflé Slime? It's not as popular as other types of slime yet, but maybe you've seen it already on Instagram and are wondering how to make it. Soufflé Slime is fun to make and looks very cool and beautiful. It's actually not difficult to make or maybe it was just good luck, but the first time I tried, it turned out just perfect!
The secret ingredient to make Soufflé Slime is shaving cream. You will need to make a very fluffy slime for Soufflé Slime. The top of the Soufflé Slime is a small iceberg slime, so you will need to leave it dry uncovered for one day before you can play with your Soufflé Slime. It's a type of slime very satisfying to poke!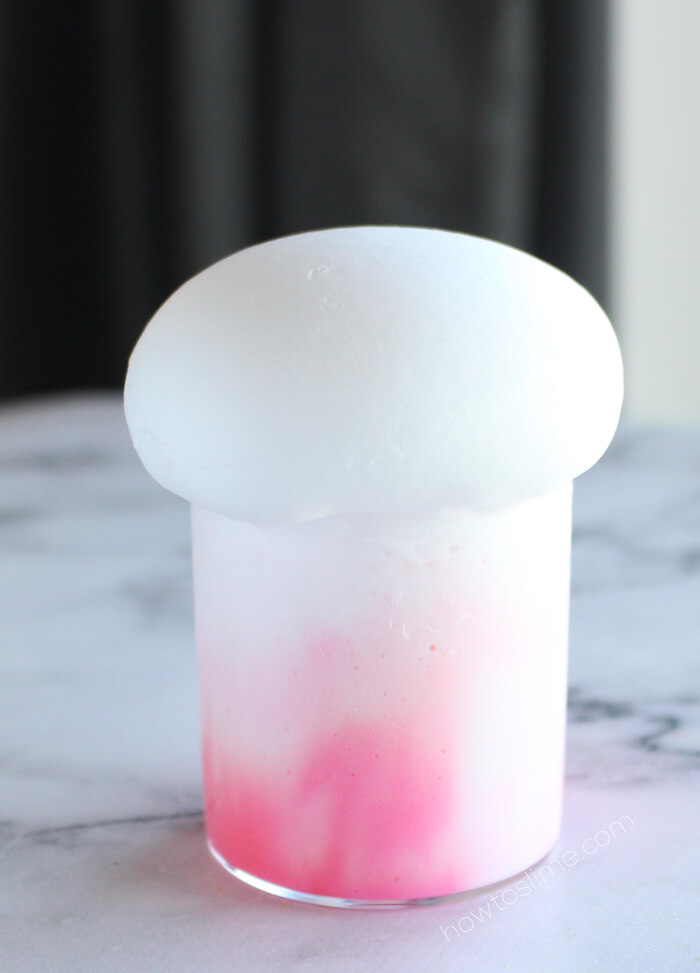 Ingredients
1 bottle of Elmer's Washable Glue (4fl oz/118ml), which equals to 1/2 a cup
Shaving cream
Borax
Food coloring (I used pink)

How to Make Soufflé Slime
Pour the white glue into a bowl.
Add shaving cream and mix well. You will need to add about 2 cups of shaving cream, or as much as you need to get a very fluffy slime.
Add the activator. If using borax, make the borax mixture by adding 1 teaspoon of borax powder to 1 cup of warm water (hot tap water will work). Stir well to combine. Add the borax mixture to the slime, little by little, until it begins to form. When the slime begins to form, take the slime out of the bowl and knead with your hands. Keep kneading and adding activator until you get the perfect fluffy not sticky slime texture.
In another container, like the one I used, add 2 drops of food coloring to the bottom. Now put half of your fluffy slime inside the container and swirl it around with your finger to where it is not completely mixed in but only a little to get the effect as shown in the pictures.
Now take the other half of your fluffy slime and put it in another bowl. Add even more shaving cream and mix well. Put it on top of the other slime, forming the dome shape, and leave it uncovered for 1 day, or until you can feel a hard surface when gently pressing with your fingers.
When it's hard enough to break when pressing it, then it's time to play with your Soufflé Slime. Have fun!