Jelly Cube Slime!!! Definitely my favorite slime. It's so popular right now, you should also learn how to make it! To make Jelly Cube Slime you will need a magic sponge eraser, like Mr. Clean magic erasers. But you can also buy a different brand at the dollar store for a cheaper price.
You can make your jelly cube slime look like something fun. I made this one look like pineapple chunks! I added some color and glitter to make it even prettier and realistic. You could even add scent to it. You can check out my Valentine's Day Jelly Cube Slime recipe for a beautiful pink slime.
Jelly cube slime is stretchy, squeezable and fun to play with! You can crush the sponges with your fingers to create a fun slushee texture. I noticed that if you use smaller cubes to make jelly cube slime, the sponges will crash by themselves after a day, so I prefer to use bigger cube sizes.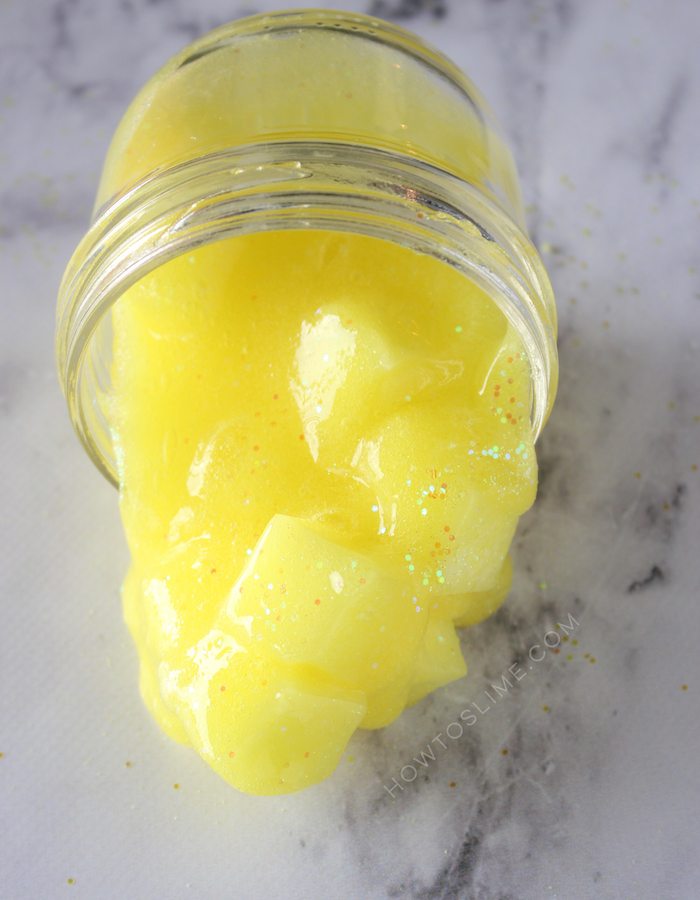 Ingredients
1 bottle of Elmer's Washable Clear Glue (5 oz/147 ml)
1/2 cup of water
slime activator (you can use 1 teaspoon of borax powder added to 1 cup of warm water or clear liquid laundry detergent)
food coloring and glitter (optional)
magic eraser cut into cubes
How to make Jelly Cube Slime
If using borax, make the borax mixture by adding 1 teaspoon of borax powder to 1 cup of warm water (hot tap water will work). Stir well to combine. Set aside.
Pour out the entire contents of Elmer's clear glue into a bowl.
Add 1/2 cup of water to the bowl. Stir well to combine.
Add a few drops of food coloring and glitter (optional) and stir well.
Add the borax mixture to the bowl and stir. Keep adding little by little until it begins to form. (Or use any other slime activator if you don't want to use borax).
Don't add too much activator or the slime will become stiff. Just use as much as you need to make the slime stretchy and not sticky.
Add the cubes while the slime is sticky, so the pieces don't fall out. Then, add more activator if needed.
Store in an airtight container and let it sit overnight so it becomes more clear.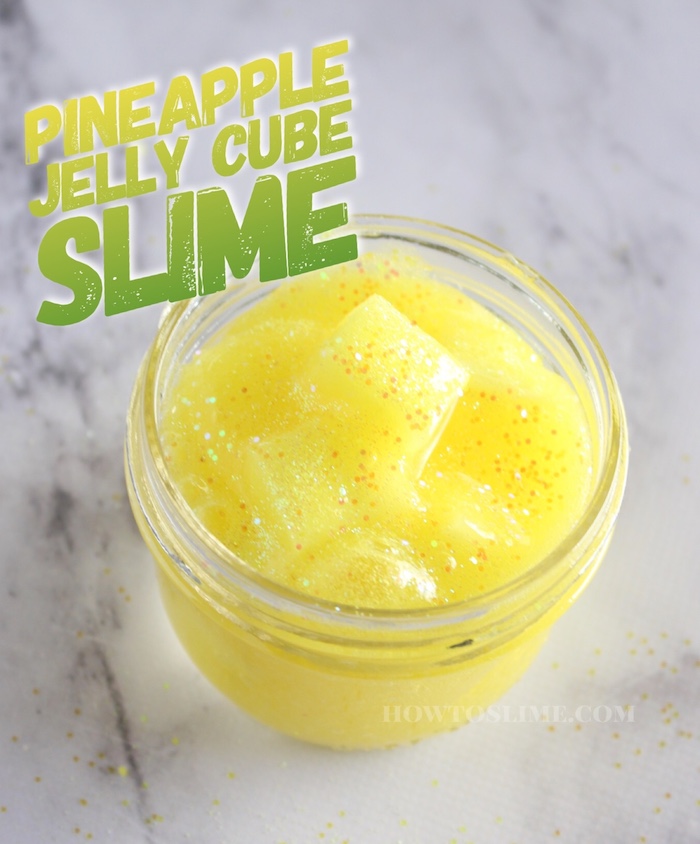 SaveSave
SaveSave
SaveSave
SaveSaveSaveSaveSaveSaveSaveSave
SaveSave
SaveSaveSaveSave
SaveSave
SaveSave
SaveSave
SaveSave